More Info. & Photo's For

William F. Webb
William F. Webb Jr.
George Webb
Jessie O. Webb
Alwilda Webb
William Smith Webb
David Webb
Olive Baker
William Fredrick Webb born Sept. 8th 1842 in London England. He died April 8th, 1924 and was Buried in Noble County Perry Oklahoma. He was supposedly stowed away from England when he was 12 yrs old. He was a bank Janitor, teamster, farmer and at one time a bone collector. See William F. Webb link for more information.
Allie's mother is Olive Ladonia"Ollie" Baker (Webb) born 1851 in Wyoming, Lee, Ill.
William Fredrick Webb & Olive "Ollie" Baker Webb
They had 9 children all born in Kansas Listed below
1. George Frances Webb: Born 1874 Moline Ks. married Jessie b, in NE.
2. Edward (Burt) Webb: Born 1875 Moilne Ks
3. William Fredrick Webb Jr. : Born 1877 d. Jan. 21st 1951 Perry Ok. Noble County.
4. Mariah Louise Webb: b. 1879 Moline Ks

5. Jessie Olive Webb b. 1882 Moline Ks.
6. Alwilda "Allie" Webb (Burke) Born Nov. 12, 1884 Ks. Married Doug Burke and they had 8 children, Viola, Elton, Beulah, Elsie, Charles, Howard, Myrtle, Bob.
7. David Arthur Webb: Born Sept 1st 1885 Moline Ks. Married Tommy Holland, They had a farm in Barxtownship, Ok. Roger Mills Co.

8. Commie Lorene (Lenie) Webb : Born 1887 Moline Ks.

9. Lewis Webb: Born June 22 1887 (Twin to Lenie)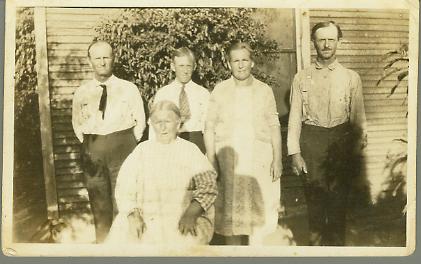 (L-R, back) George F. Webb, Bert Edward Webb, Mariah Louise Webb Kiger, and David Arthur Webb. The woman sitting in the front is Olive Ladonia Baker Webb.

Olive married a man named ? Rucker, after she divorced William. Olive Filed for Homestead in Aug. 19, 1901 under the name Olive Rucker and sold the land two mos later and listed her husband a Joseph Fern. Olive and Joseph moved to Elk City in western Oklahoma. Olive died Feb. 18 1934 and is buried in the Fairlawn Cemt. in Elk City.

Allie is the Daughter of Olive "Ollie" Baker (Webb) (mother) born April, 1851 in Wyoming, Lee County Ill. Ollie's Father was David Baker born June 5 1819 in Houlton, Aroostook, Maine. Death Nov. 25th 1906 in Crawford, Dawers, NE. Buried in Moline Elk County, KS. Married Rebecca Abell 1842 in Alymer, Ontario, Canada. See Abell family for more information.

Rebecca is the mother of Olive Webb. Rebecca was born Aug.28, 1822 in Aylmer, Elgin, Ontario Canada. She died Dec.27, 1905 in Crawford, Dawes, NE. and was buried in Moline, Elk, Kansas. They had 8 children listed below:

1. Martha Ann Baker b. 1845 in Canada
2. Adonian J. Baker b. 1847 in Canada
3. Abelina Baker b. 1849 in Canada
4. Olive "Flioe" Baker b. 1851 in Wyoming, Lee County ILL.
5. Ella "Della" Baker b. 1853 in Wyoming, Lee, ILL.
6. Arthur Dorcy Baker b. Jan. 24,th 1856 in Waterloo, Blackhawk, Iowa. D. Nov. 1 1908 in Crawford, Dawes County NE. Buried Nov. 3rd, 1908 in Crawford, Dawes, NE.
7. Alwilda "Alioilda" Baker b. 1859 in Waterloo, Blackhawk County, Iowa
8. Lena Baker b. Feb. 14th 1861 in Waterloo, Blackhawk, Iowa Died July 25, 1901 in Moline, Elk County, KS. Buried in Moline, Elk County KS.

See David Baker for more information.