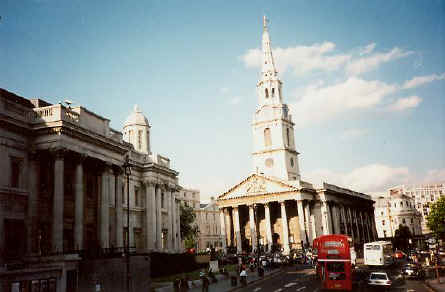 picture is of St. Martin in the Fields Church where William Smith Webb, was christened and baptized about 1812. In the picture it is in the center right facing Trafalgar Square. The building to the left of the church is the National Art Gallery.
Maria Elvey, was baptized at Stephney, St. Dunston about 1813. I don't have a picture of it.
William Frederick Webb (1840-1924) was born in St. James, District of Clerkenwell, London, on Sept 8, 1840. His father was William Smith Webb and his mother was Maria Elvey.
William Smith Webb was baptized on December 1, 1812 at Westminster, St. James of the Fields, a district of London. His father's name was Thomas Webb and his mother's name was Louisa (surname unknown in my records).
Maria Elvey was baptized on June 13, 1813 at Stephney, St. Dunston, also a district of London. Her father was Charles Elvey and her mother was Elizabeth (surname unknown in my records).
It was customary in England at this time to baptize the children at a very young age, usually within a few weeks or days of birth.
In the Census Record for 1841, William Smith Webb and his wife Maria, both age 28, were shown still residing at 8 Northampton Building, St. James, Clerkenwell, where William Frederick Webb was born. They were shown as having 3 children:
Louisa age 4
Thomas age 2
William Frederick b. Sept 8 (less than 1 yr old)
William and Maria Webb and their children are not to be found in the 1851 census for St. James, Clerkenwell. Still trying to find the family in the census records for 1851 in some other district of London.
David Arthur Webb, told his children that before William Frederick Webb immigrated to America he went back to London to find his family. After searching for them unsuccessfully he moved to America. In the U.S. Census records of the late 1800's and early 1900's he reports that he landed in America in 1860.